Here is an interesting article from Slate.com about making sense of natural bath and beauty products. 
When I go to the drugstore these days, it seems like every other bottle of shampoo and tube of lipstick is being marketed as "natural" and "organic." Do any of those labels actually mean anything?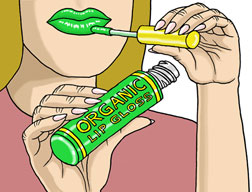 The Green Lantern feels your pain—she often finds herself standing glassy-eyed in the soap aisle, seduced and confused by the pretty pictures of exotic fruits. We can all be forgiven for being hypnotized by the hype: After all, beauty firms spend, on average, a whopping 20 percent to 25 percent of their revenue on advertising and promotion, compared with just 2 percent or 3 percent on research and development.
And it goes on from there.  There are two things that I'd like for you to take away from the article.  One, is that natural can mean anything or nothing.  It is a word that isn't regulated.
Two, see the sentence above - beauty firms spend 20-25% of their revenue on advertising.  Small handcrafted companies like Soapourri don't do that - so you are getting a much better value by buying our products!